Become a Midweek Member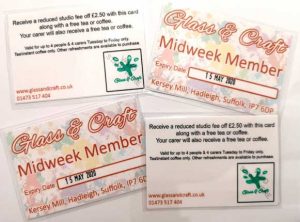 Every day in our studios we see how stimulating and satisfying it is for people of all ages and abilities to make something. We delighted to now offer advantages to adults & children with additional needs to experience just how rewarding crafting can be.
With your free membership card you can come along from Tuesday to Friday for the reduced studio fee of £2.50 per person. Our prices fit all pockets. With the reduced fee lots of delightful and satisfying crafts can be done for a total of under £10.
Crafters get a free tea or coffee and with your membership card so do any carers.
Apply for YOUR membership card now
Getting your Midweek Membership Card could not be easier. Simply fill in the form below and we will pop a card in the post for you. Each card is valid for up to people along with 4 carers. Please note that these cards are exclusively for adults & children with additional needs.